Beauty & Self
Books & Music
Career
Computers
Education
Family
Food & Wine
Health & Fitness
Hobbies & Crafts
Home & Garden
Money
News & Politics
Relationships
Religion & Spirituality
Sports
Travel & Culture
TV & Movies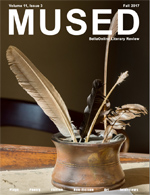 Autumn is a season for counting our blessings. For realizing just how much we have in life where so many others are without. It can often be easy to take things for granted. Things which millions of people desperately dream of having. By pausing for a moment, and looking around with mindfulness, we can find a new center. Begin with fresh energy.

Enjoy the Mused Autumn Equinox 2017 Issue



Flurry Snowflake by Harolah Cheser
Tatting - Georgia Seitz, Editor

Flurry Snowflake by Harolahlala (Harolah Cheser), aka The Shade Tree Designer, features the use of floating rings.




Homemade Granola Bars Recipe
Indian Food - Sadhana Ginde, Editor

Granola Bars are healthy & nutritious snacks that can be made right in your own kitchen. My simple recipe combines rolled oats with nuts, dried fruits & flavorful spices. Best of all, these bars can be customized to suit your family's palate & it's also a great way to get your kids into kitchen.




Lake Perris
California - Korie Beth Brown, Ph.D. , Editor

In Riverside County, there's a beautiful desert lake ready for your year-long swimming pleasure!




Imagiknits
Knitting - Korie Beth Brown, Ph.D., Editor

Next time you're in San Francisco, make your way to Imagiknit for some serious knitspo!




Half Pigeon Pose
Yoga - Korie Beth Brown, Editor

Ardha Kapotanasana, as the pose is called in Sanskrit, is one of the strongest stretches for your gluteal muscles, but the supine variation is best for beginners.




Parenting Kids with ADD During Holidays
Attention Deficit Disorder - Connie Mistler Davidson, Editor

Especially during the holiday season, parenting kids with Attention Deficit Disorder, can be a challenge. Traveling to different places to see family and friends can be a time of joy, but it can also test the strongest nerves. These articles can be helpful in parenting kids during the holidays.


| Google+ |
E D I T O R R E C O M M E N D E D
The Killer Angels by Michael Shaara


Best historical novel ever, and I donīt even like most historical novels. Epic and unforgettably intense! Among other things, reading this will teach you how to hook your readers through writing strong character emotion.
Jesus of Nazareth


Award winning film produced by Franco Zeffirelli, depicts the life of Jesus Christ from birth to resurrection. Originally made for television in 1977, this set is available on DVD or VHS. Itīs been a few years since I last watched this awesome depiction of Christīs life, but it still remains one of my favorite.
True Balance by Sonia Choquette


This terrific guide gives you fun, everyday ideas with which to open and strengthen all seven of your chakra energy-centers, including the third-eye chakra and crown chakra which help you to connect with psychic phenomena and the divine.